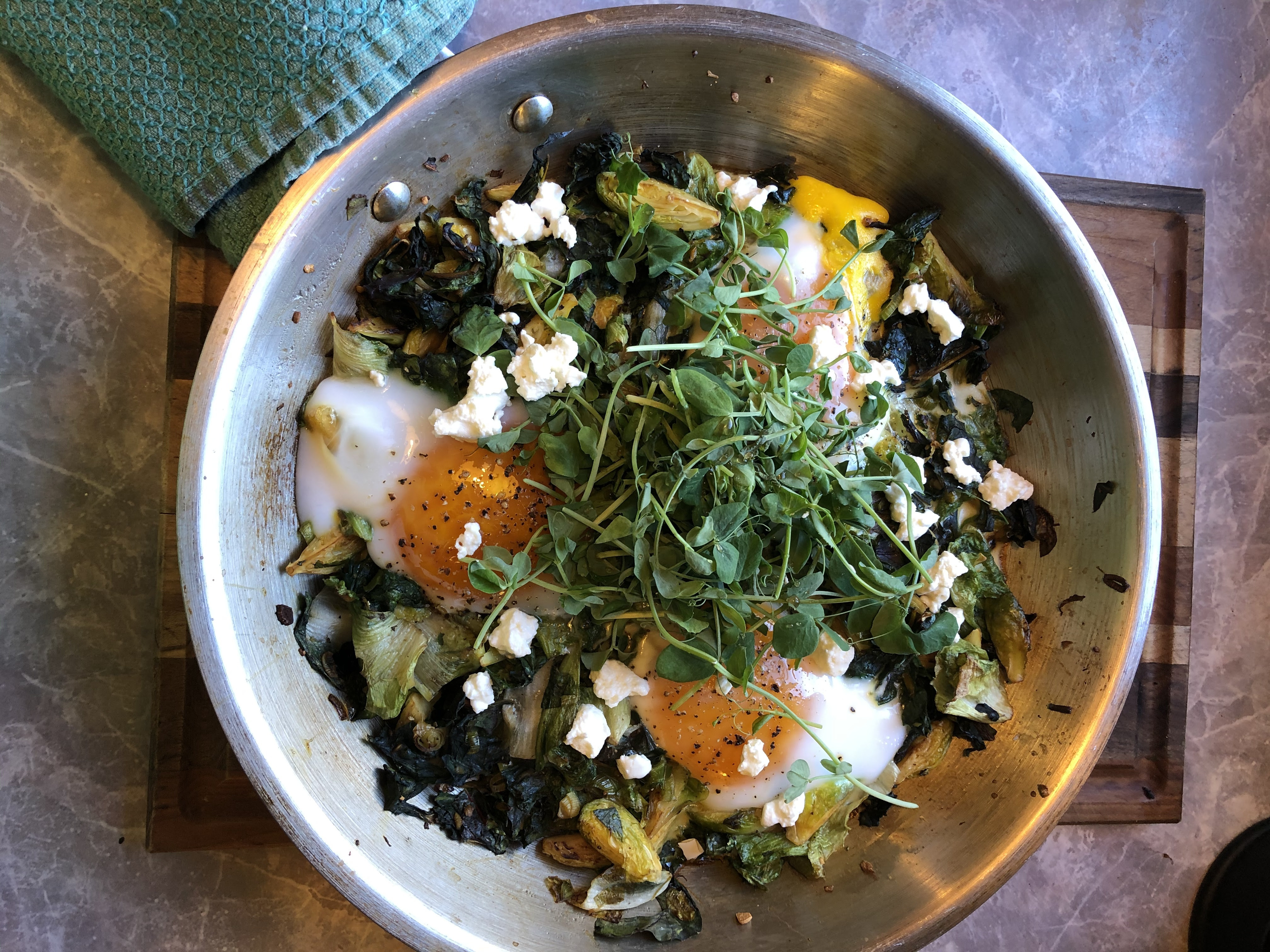 Spring Green Shakshuka
This first appeared in the Clemson Area Food Exchange newsletter, edited by Ellie Sharp

Traditional shakshuka is a spiced tomato-based egg dish that originates in Israel where it is served for breakfast. In the United States it is more popular in the evening and is a perfect eggs-for-dinner-kinda-meal. Since tomatoes aren't yet in season locally, I created an alternative by highlighting fresh greens. A bed of local spring ingredients really showcases the beauty of goose eggs. And, wow, the goose eggs are truly spectacular. Chicken and duck eggs are great, too, and can be used in place of goose eggs. You can easily swap the base of spring greens with whatever you have on hand: sub in kale and spinach for the Swiss chard and escarole; use asparagus instead of Brussels sprouts. Do try to include escarole if you can! If you haven't tried it, this dish is a perfect intro for you as its nuttiness really comes through. 

Ingredients:
2 TB butter
3 to 4 small leeks or 1 bunch of scallions, sliced
1 cup of Brussels sprouts, quartered
1 small bag of baby Swiss chard, chopped
½ head of escarole, chopped
2 garlic cloves, minced
Salt and pepper to taste
Goose eggs (2-4 depending on the size of your pan)
Goat cheese
Pea shoots dressed in vinegar (optional but highly recommended)

Directions:
1. Preheat the oven to 350 degrees.
2. Select a large, oven-safe sauté pan.
3. Melt the butter in the pan. Add the leeks and Brussels sprouts, sautéing until they start to soften. Add the chopped greens and minced garlic and cook just until the greens are wilted. Season with salt and pepper. Be careful to not to cook too much here as everything will go into the oven soon.
4. Using a spatula, create "dents" in the greens into which you will crack the eggs. I used 3 goose eggs, so I made three nice dents/craters in the greens. Crack eggs into place. Season each egg with salt and pepper.
5. Place in the oven at 350 degrees for 18 to 22 minutes depending on how well done you want your eggs. If you like your eggs easy, start checking at 15 minutes for their firmness. If using chicken eggs, start checking around 6 minutes. You can gently shake the pan to see how set the egg whites are.
6. When ready, remove from the oven and top with crumbled goat cheese. Add pea shoots in the center (microgreens make an excellent substitute) and drizzle everything with a few splashes of a nice herbal/finishing vinegar. You know you have that weird one in the back of your pantry and this is a great time to use it!